Asus 4G-AC55U AC1200 4G LTE Router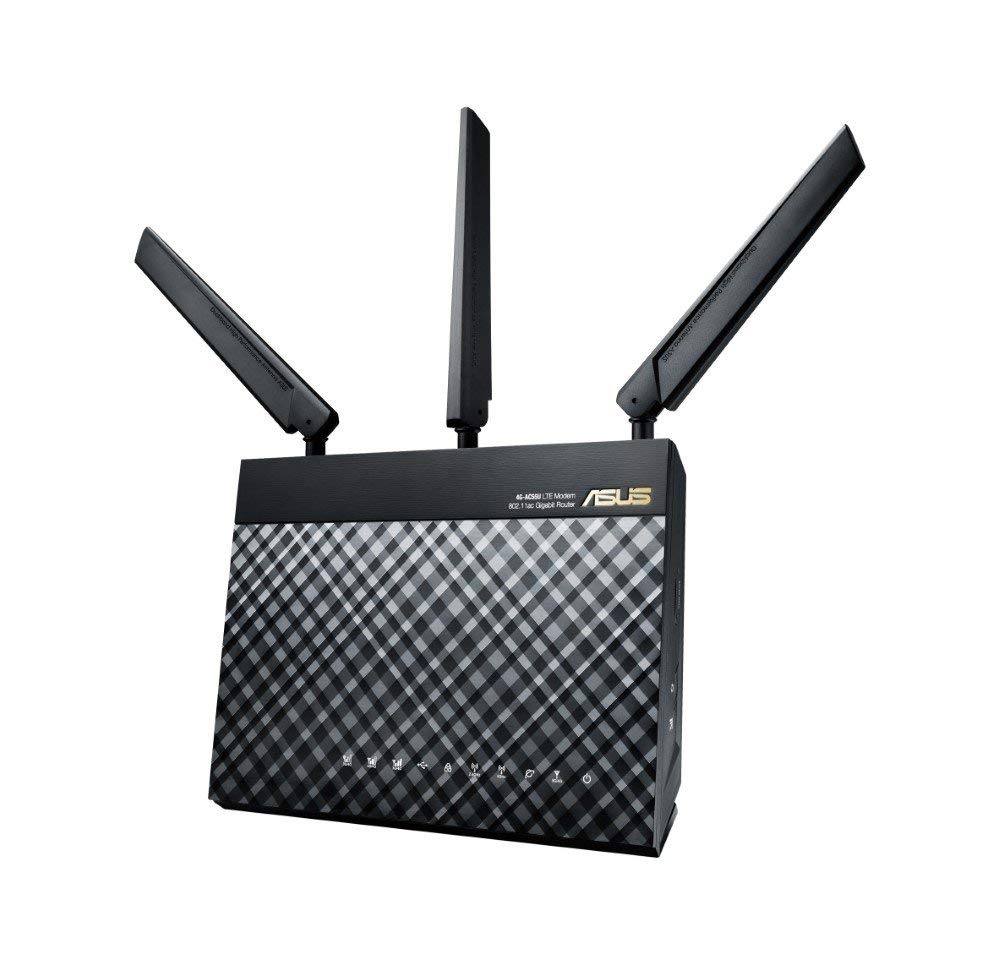 Get lightning fast WiFi speeds with the Asus 4G-AC55U WiFi modem. It gives four times wider WiFi signal than the conventional 4G LTE routers. You can enjoy more internet bandwidth by aggregating two WAN connections. Its parental controls will let you monitor and filter internet activities to restrict unwanted sites.
You can also set up a guest network to share WiFi with the visitors. With the help of signal strength indicator, it will only let you find the best location for the router for optimal speed and stability of the connection.
The detachable and upgradeable 4G LTE antennas let you adjust the signal strength as per the environment. It has 4 Ethernet LAN ports, one WAN port, one USB 2.0 port and one SIM slot for 4G SIM card. The easy to use Asus-Wrt user interface will let you easily configure all the advanced functions of the 4G-AC55U router.
Ultra-fast mobile internet and ultra-fast Wi-Fi — in one!
Simply pop in a 4G LTE SIM card to the 4G-AC55U LTE router, and the built-in modem connects wirelessly to the internet via super-fast mobile broadband. You can enjoy up to 150Mbps downloads and 50Mbps uploads, with no worries about USB dongle compatibility. It can even connect to a cable modem if you just want to use a 4G LTE connection as a backup internet connection! With its 4X wider Wi-Fi coverage and concurrent 1167Mbps Wi-Fi speed, you can share the internet connection all around your home or office — perfect for locations where 4G LTE speeds are faster than conventional ADSL or cable broadband. Convenient and cable-free, 4G-AC55U will give you smoothly-streaming HD videos and fast file-sharing.
Blazingly-fast wireless performance
4G mobile broadband technology means you will enjoy 5X faster downloads and uploads than 3G HSPA+1. The latest 802.11ac 2-transmit, 2-receive (2X2) antenna design, provides up to 6X faster wireless speeds for brilliantly-fast HD video streaming, file transfers and more!
4G LTE and Gigabit Ethernet dual-WAN for interruption-free connections
In addition to its 4G LTE capability, 4G-AC55U has a dedicated Gigabit Ethernet WAN port that can be used as a backup wired internet connection that is activated when the 4G LTE connection fails (failover), and automatically switches back when service is restored (failback). This gives superb flexibility for business or home use — you need never be without an internet connection.
Advanced multi-layer security
With 4G-AC55U your home network is protected by a multi-layer security system.
1. MAC filter: Allows you to block one or more devices based on their MAC addresses.
2. Access control: Control the level of network access granted to any network device, for example blocking certain ports or internet services.
3. Keyword filter: Block access to undesirable websites based on keywords and apply these restrictions to specific network devices4
4. Advanced firewall: Firewall with Stateful Packet Inspection (SPI) protects against common web-based attacks and threats.