WIRELESS INTERNET : Last Alternative !
Wireless Internet is possibly the very last alternative to most people who live in rural America. Certainly not the best option to chose from. On the other hand, Wireless Internet has come a long way. Many small towns have their own local Internet providers which can produce very good upload and download speeds. But these Providers usually cover specific Zip codes and still many consumers end up falling through the gaps. It can be very tricky to supply every single town and every city with Wireless Internet Service, There are always areas even within the zip code coverage maps for the BIG 4 cell service providers. These cell providers are actually the very heart of all Wireless Internet Providers. There are no tricks or anything instead of the oldest Technology available" 3G and 4G" which possibly could be obsolete in the very near future.
We value your time. and we know how much time it takes to research all the Wireless Internet Companies who provide services in your zip code. However, Yellow Broadband is within the top 10 National Providers but did not come up in the list below. The top 5 rated Wireless Internet Providers according to wifiReports.com can be found below.
If you already have a satellite broadband internet service at home, chances are that you may not realize there is another option Broadband wireless internet service is usually available nation wide even in Rural areas. While Wireless Intrernet is not always found to be an excellent choice in small towns with their own local wireless internet providers there are always caps on the services. you can find nation wide wireless internet providers who offer unlimited wireless internet plans.
For instance, unlike a wireless internet connection, a home-based broadband internet connection won't give you the highest upload and download speeds available. And do what you like best:
Download
Upload
Surf
Chat
watch movies
play video games
…whatever!
Order Now : 1-774-243-0001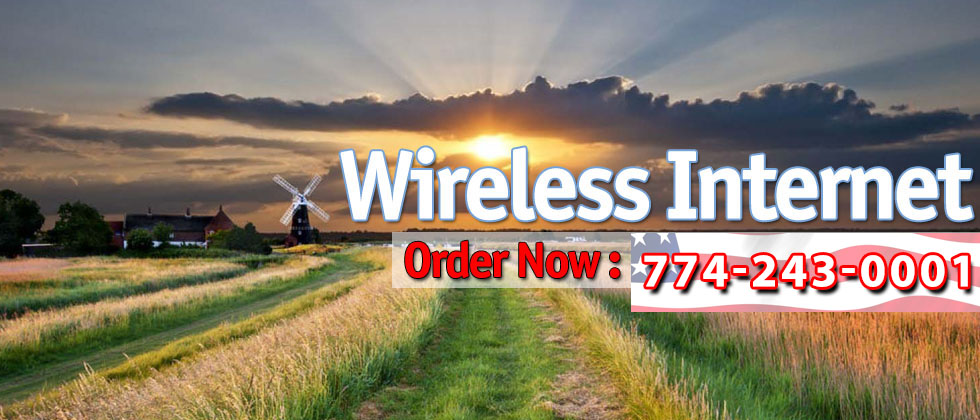 Lets you think: Maybe satellite broadband service is obsolete – that's not entirely true. Hundreds of consumers even thousands are using satellite internet service – and are extremely satisfied with it. That's because it offers them exactly what they need .While at home, in the basement, in the garden, or perhaps even in the garage.
But if you want unfettered internet access wherever you go – whether it is on foot or driving, or by train…then mobile wireless internet is another option for short time spans.!
Broadband Wireless Internet 101
So what exactly is a broadband wireless internet connection, and how does it enable you so much freedom – almost unfettered – to access the internet on the go?
The Basics
There are three basic types of broadband wireless services available:
Fixed wireless broadband

Mobile broadband wireless

Wireless Internet
A Fixed broadband wireless service is what most subscribers have in their homes or offices. These services include technologies such as Local Multipoint Distribution System (LMDS) and Multichannel Multipoint Distribution Service (MMDS) to transmit wirelessly through a network of locally-based antenna.
The challenge with Fixed broadband wireless internet service is it's coverage. Both LMDS and MMDS services are only available if your home or office is within direct line-of-sight radius of the transmitting station. And that could pose potential problems. If your home is large enough, or you have an extended backyard with lots of tall trees or many large structures nearby – your internet signal could be compromised.
And that's where a wireless broadband internet service differs significantly from its fixed transmission counterpart!
In the case of mobile broadband internet, there are a number of different technologies, such as LTE, 3G and 4G, which enable uninterrupted broadcasting of an internet signal to any mobile device. A mobile broadband wireless internet signal doesn't depend on line-of-sight transmitters. It is delivered using the infrastructure of mobile phone towers – and that means almost unfettered internet access wherever you may be!
The "Anywhere" Mobile Wireless Internet Advantage
So essentially, while both fixed and mobile broadband technologies offer you the ability to connect to the internet wirelessly; there are clear advantages to switching to mobile internet access if your needs are to have internet access "on the go".
Go grocery shopping, and use your tablet or smartphone to surf the internet

Hop on a train and, instead of taking a 2 hour nap, catch up on the news or check your investment portfolio

Go on a long-trip with the kids, and make sure they are watching their favourite TV shows as you drive

Don't loiter around the airport if your flight is delayed – use your mobile wireless internet connection chat with friends and family or check the status of your flight
By leveraging Yellow Jacket Broadband's extensive nationwide network of cellular towers, our subscribers are guaranteed to get internet coverage anywhere across the country – guaranteed! Our coverage spans across 50 states, and we are available in some of the most rural regions in the country – check for yourself.
And that's why we call it our Anywhere Internet advantage!
But there's more than just "internet WHERE you want it" involved when you switch to our wireless broadband service. We know our customers don't want to be restricted or forced to get their internet content in any specific manner – you want to have choice. And that's exactly what we're offering!
Wireless Internet Services can give you "internet HOW you want it"!
At the hairdressers, you can flip out your smartphone and browse through the entertainment gossip news

At the grocery check-out counter, use your tablet to pull up all those links to coupons that you've saved, allowing check-out staff to more clearly see the deals you want!

While at a friend's house, watch a movie or play games on a tablet or laptop

At a client's office, turn on your laptop and jump to your cloud-service and give that presentation you have been working on
Yellow Jacket Broadband wireless internet service is one option for wifi in rural areas. Allow you unfettered internet access wherever you want it; it also lets you have internet access the way you want it – on any device of your choice.
Now that's what we call Having your cake and eating it too!
Making Unfettered Wireless Internet Happen For You!
Our mobile internet solution moves where you move, so you'll never be without access to the internet – even in the most remote of locations! So the next questions you may be asking are:
How long will it take?

Is it difficult or cumbersome to make that happen for you?
The answer is: It doesn't take long at all…and it's not a huge deal to make happen for you!
We've been in this business for a long time, and the one thing we know well is how our customers hate it when their internet service providers make it tough for them to get service. That's why we've made getting a mobile internet service simple and stress free.
Because Yellow Jacket Broadband leverages its nationwide cellular network to provide its customers truly unfettered access to the internet, getting you connected to a lightning fast wireless internet service is just a breeze – for us and for you!
There are no holes to dig through your walls

You don't need to run miles and miles of cables all over your house

…and you don't even need to mount giant antennas on your rooftop pointing to the sky!
Once you decide you want mobile internet to happen for you – we'll take care of the rest!
We'll send you a wireless modem, and even offer to walk you through the simple set up process. It's so easy, you'll wonder why you didn't switch to mobile internet before! Then, all you need to do is activate the SIM card for your device – and you're off to the races within minutes!
And that's it! You're all set up now to receive an internet connection straight to your home using our mobile network. And when you're away from home, your wireless internet connection will travel with you – no matter where that might be!
Multiple Devices…Multiple Plan Choices
Our wireless internet service doesn't restrict you from using as many mobile devices as you like. You can use your smartphone, the kids can use their tablet and you can even use your laptop at the office. And we even don't restrict your choice for usage.
At Yellow Jacket Broadband, we believe in choices. That's why we've designed multiple plans depending on data usage and download/upload speeds that our clients want. You can even choose from the type of wireless internet service you need – 3G or 4G – the choice is yours!
And if you want to play it safe because you are not sure how much data you and your family might use, we even offer unlimited data plans – just so you'll never run out of data limit – ever!
So if you've decided that you should make broadband mobile internet a reality for you and your family this year, then now's the time to make it happen for you!
Call us now at 774-243-001, or simply go online and fill out our form telling us what type of wireless internet service you are looking for. Our knowledgeable team of experts will review your needs, and we'll provide you with a FREE quote within no time!