ASUS Dual-band Wireless-AC1900 Router ( RT-AC68U)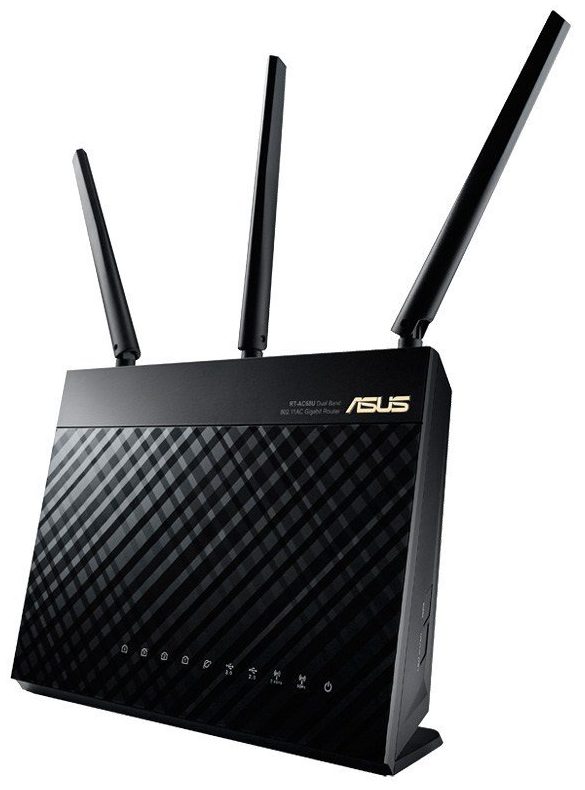 Asus dual-band AC-1900 WiFi router boosts speeds up to 1900 Mbps. It has four Gigabit Ethernet ports for fast and stable wired Ethernet connections. It packs a dual-core processor for fast and responsive performance. AC-1900 has USB 3.0 ports for ten times faster data transfers. The controls are quite comfortable to use with the intuitive Asus router app. The RT-AC68U also features dual USB ports primarily for 3G/4G modems/dongles, plus file, printers sharing. The Router incorporates advanced AiProtection from Trend Micro for threat protection and advanced security. It provides advanced parental controls, blocks malicious addresses and prevents the intruders from hacking into your data.
The Asus AiRadae strengthens wireless connectivity using beamforming technology. It ensures extended wireless range for a high-speed data transfer and stability. The dual-band connectivity will let you switch between the 2.4 GHz and 5 GHz for different data loads.
Dual-band with the latest 802. 11AC 3x3 technology for combined speeds of up to 1900 Mbps 1GHz dual-core CPU enables smart multitasking by dedicating separate lanes for Wi-Fi and USB data. Network standard: IEEE 802. 11a, IEEE 802. 11B, IEEE 802. 11G, IEEE 802. 11N, IEEE 802. 11AC, IPv4, IPv6 Effortless router setup with the ASUSWRT web-based interface. Dual-band connectivity for compatibility and performance
Monitor and manage your network with ease from your mobile device using the intuitive ASUS router app A protection powered by Trend Micro provides multi-stage protection from vulnerability detection to protecting sensitive data. Please refer the installation manual and the user manual before use which is highly essential. Dc output: 19 V with max. 1. 75 a current. Guest network: 2. 4 GHz x 3, 5 GHz x 3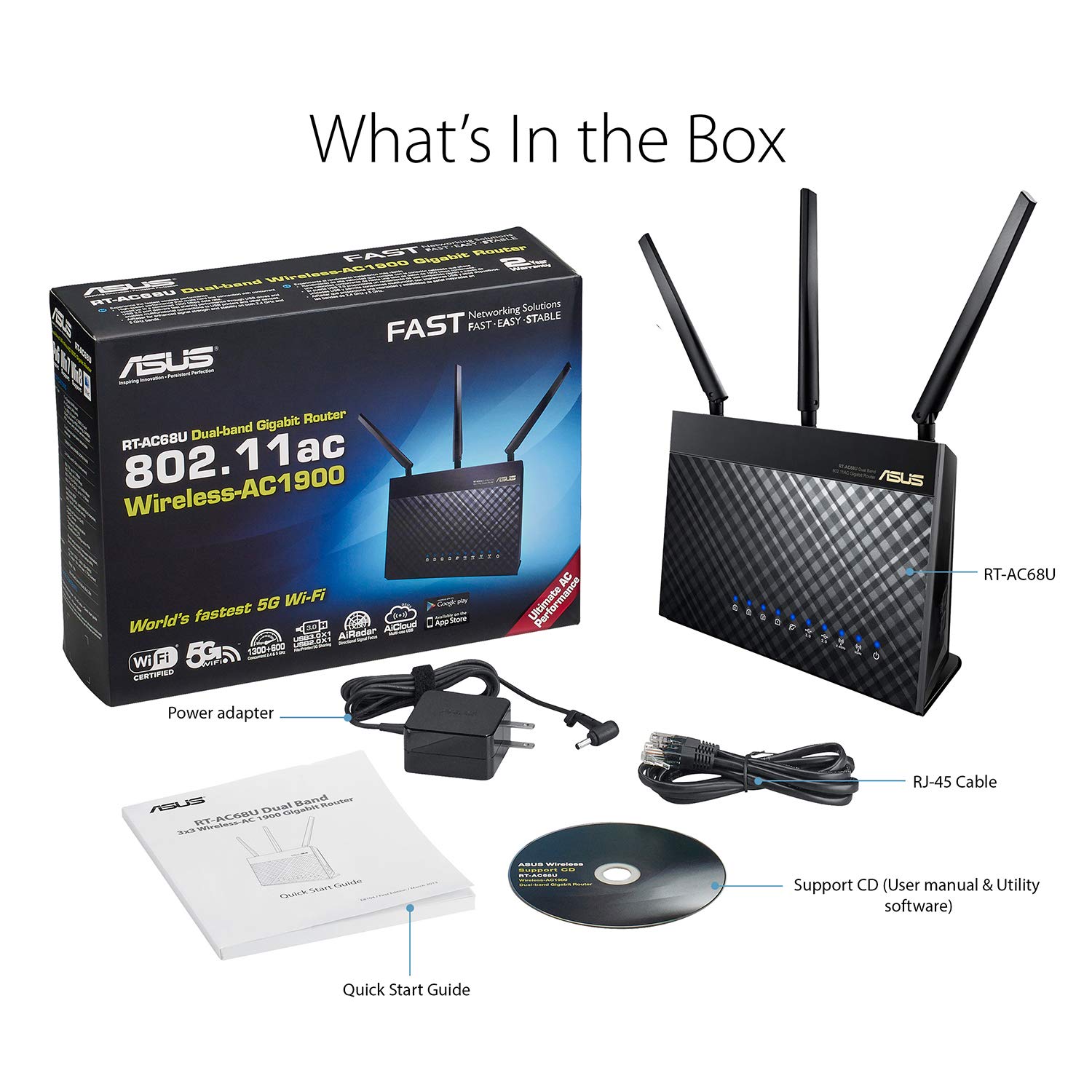 AiMesh is an innovative new router feature that connects multiple ASUS routers to create a whole-home WiFi network. It's a powerful and flexible way to solve your WiFi problems that also makes the most of your existing hardware: you can mix different ASUS router models, so when you upgrade there's no need to throw away your old router — you can use it to expand your AiMesh network.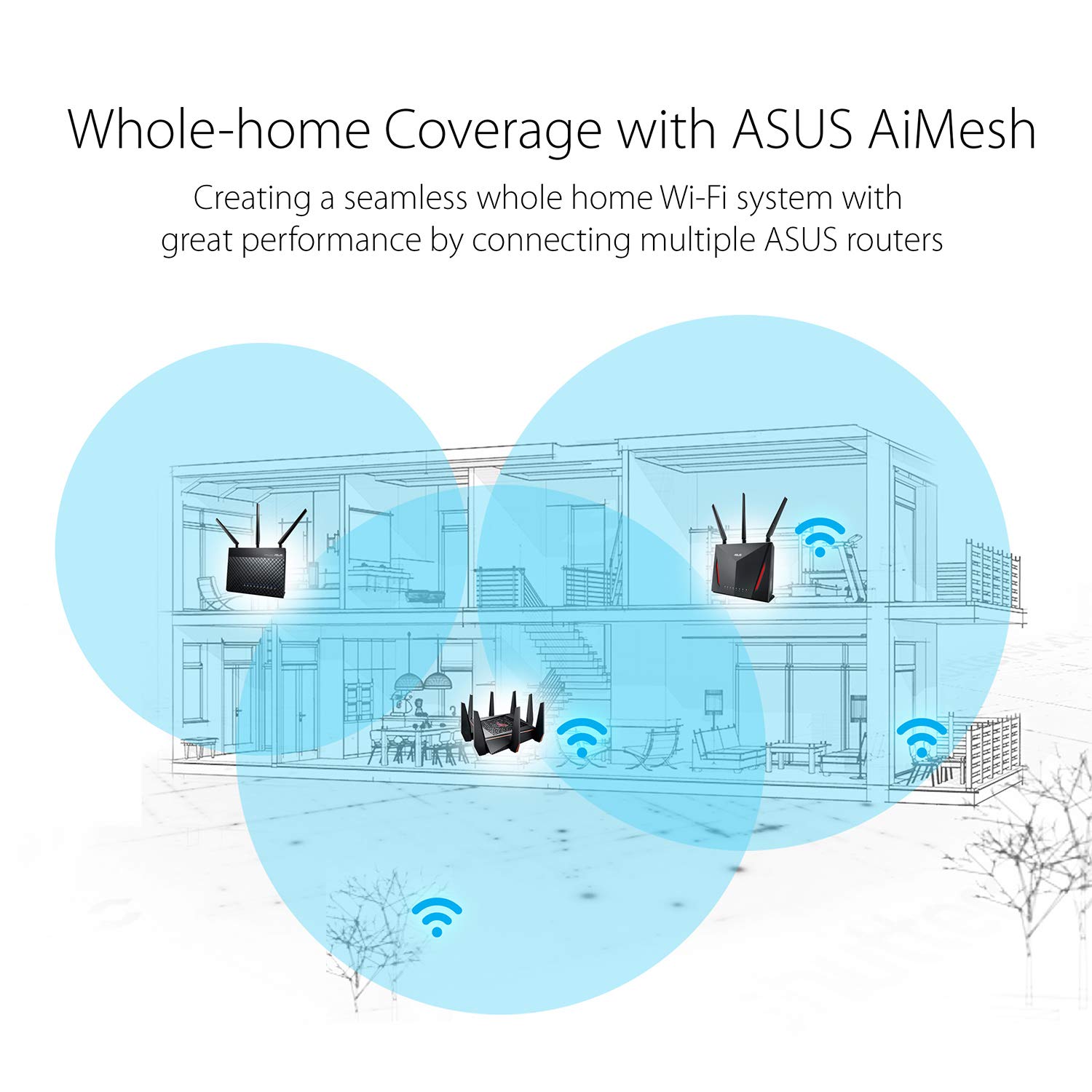 Dual-band 3x3 AC1900 Wifi 4-port Gigabit Router with AiProtection Powered by Trend Micro RT-AC68U is one of the world's fastest Wi-Fi router, with combined dual-band data rates of up to 1900 Mbps. The 5 GHz band delivers 1300 Mbps 802.11ac for Gigabit wireless data rates, while the super-charged 2.4 GHz 802.11n provides up to 600 Mbps.
With built-in USB 3.0 and USB 2.0 ports, you can connect USB-enabled devices, such as external storage drives, printers, or a 3G/4G dongle to your ASUS router and share them via Wi-Fi while AiProtection powered by Trend Micro keeps your network secure.