MOFI4500 4GXeLTE 4G-LTE Router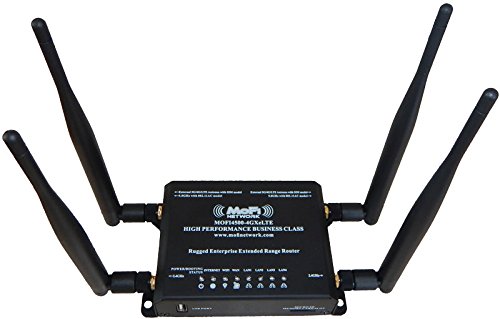 This one comes with a metal body and enterprise level routing features. It comes with an embedded SIM (AT&T and T-mobile variations). Moreover, it also supported the band 12. This is a recommended wireless router solution from T-mobile itself. It features many key networking features such as Failover, IP pass thought, captive port, etc. Thanks to the built-in wireless repeater mode, it generated a much wider range than average routers in the same performance and hardware bracket. The 4GLTE/LTE advanced technologies allow it to generate the longest wireless network range. This MOFI wireless 4G/LTE router supports carrier aggregation technology as well.
IP Passthrough, IP SEC VPN, MOFI to MOFI VPN, failover support are some of the features that are pretty crucial in business networks. As mentioned before, thanks to the carrier aggregation support, the router takes advantage of multiple LTE bands simultaneously while using a single SIM card for connectivity, for faster speeds. The unit ships with four antennas in total, two of which will be used for cellular connectivity and rest will be used by Wi-Fi network connectivity. MOFI is pretty good with the customer support and service, making it easy to get the installation done and receive any technical help when required.

MOFI4500-4GXeLTE V2 Rugged Metal 4G/LTE router with extended range wifi technology for the longest wifi range possible.
This model does not use a SIM card directly like our other models so you will need to use a USB modem/hotspot with this.
Router has MOFI plug & play technology so all you would have to do is put your modem in router's usb port and it would self configure
If you need any help, you can call toll free and get free support, 1-800-586-0345
Works with all modem including AT&T Beam 340U, Sprint 341U, US Cellular 397, Verizon Pantech 295 and more FCC Approved & includes official UL Power Supply
Mofi Network also offer a service call Mofi Cloud Link which can assign a public static IP address to any internet connection even if your provider does not offer this.
This is a great option for anyone who has a video surveillance camera or any other network device that needs to have a public IP address so it can be access from the outside
If you have a PlayStation and getting a NAT3 strict and have issues connecting to other The MOFI Cloud Service will make your Playstation a NAT2 device and this will fix your issues connecting to other users.