Pronto Networks 4G LTE Failover Router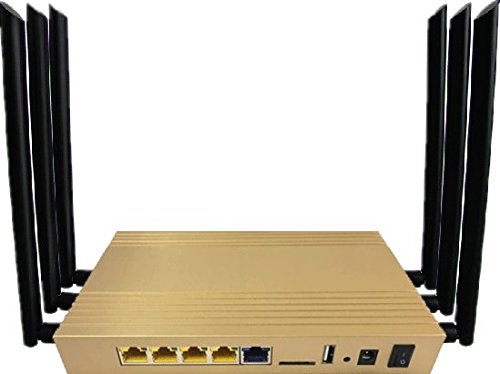 It is entirely compatible with AT&T and T-mobile LTE networks. Moreover, they are also releasing Verizon network support soon in the future. This one is a 4G/3G Wi-Fi router or says, an Internet gateway that is built for direct access, M2M connectivity, and failover connectivity. This model is quite reliable with the robust metal casing providing its interference protection from dust, vibrations, and other maladies. It comes with 1 WAN port and 4 LAN ports. It supports local area network Wi-Fi at 802.11ac and also wide area network with 3G/4G wireless access.
It delivers access to LTE, WCDMA, CDMA, 1xRTT, GSM, GPRS, EDGE, PIAP, etc. Wireless network types. With superior cloud management, you can configure your Wi-Fi on the go. The visibility of the Wi-Fi network is made easy with the PC31 access point with the simple web interface. It also supports email and SMS alerts on predefined events. All this can be done without any dedicated technical staff or expensive controller. For the price, this is a great deal for enterprise-level use.
Works with AT&T, T-Mobile LTE Networks. Verizon support coming soon! --> PIAP-11AC-M2S-GW4 (PC31) is 4G/3G WiFi router / Gateway built for primary access, M2M and failover connectivity. It is outfitted with 4 LAN port & 1 WAN port, Local Area Network WiFi (802.11ac) and Wide Area Network 3G /4G for wireless access, a USB 2.0 data interface. Built to last, the robust metal casing offers excellent anti-interference performance. PC31's flexible technology supports best in class embedded module to deliver connectivity through carriers such as Verizon, AT&T, T-Mobile and Sprint across LTE, WCDMA, CDMA, 1xRTT/EV-DD Rev A, GSM, GPRS, EDGE. PIAP module features LTE Quality of Service on 3G/2G/CDMA 1xRTT network. Superior Cloud Mange and configure your Wi-Fi while on the go.
The PC31 access point comes cloud enabled and provides easy visibility of your Wi-Fi network from an intuitive web interface. Remain in control of your network with SMS and email alerts for predefined events, monitor and update network policies and integrate monetization services. Do all this and more without any need for expensive controllers or dedicated onsite technical staff. No games, just superior Wi-Fi. Product Highlights Complies 802.11ac Four Gigabit RJ45 ports, Auto MDI/MDIX Cloud based Monitoring and Management Zero Touch Configuration and deployment One USB 2.0 Port One SIM card slot support 3G/4G dial-up Supports USB port dial-up Powered by 12V power supply