Space X rocket explosion: Exploding Facebook's Broadband satellite hopes?
Many tech giants have recently been in a race to get low-cost, high-speed internet access to primarily underserved communities across the globe.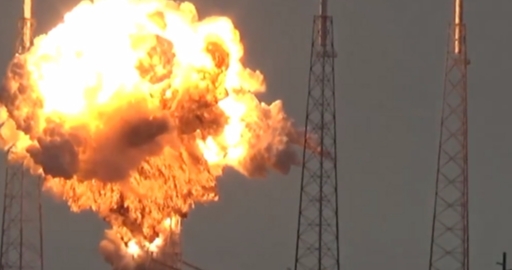 Google's plans
to beam wireless broadband into the homes of thousands of low income families across the US have been well publicised. But in what may appear to be in Google's shadows, social media giant Facebook has similar plans.
In early October last year, Mark Zuckerberg, co-founder of Facebook announced his company's
plans to provide web access
to "…large parts of West, East and Southern Africa" through outer space. Early this month, those plans seemed to have encountered a major stumbling block; but no one should be under the illusion that it puts a full-stop to Facebook's broadband internet beaming aspirations.
The Beginnings
Back on October 5th 2015, Facebook had announced a partnership with Eutelsat Communications that would see more of Africa's population get access to the internet via satellite technologies. The two technology companies had agreed to create a system of gateways, terminals and satellite capacity, and use all of the broadband power of a geostationary satellite that would be built by an Israeli telecommunications firm, to achieve the said internet connectivity objectives.
The October 2015 initiative was a continuation of various efforts from Facebook's
Internet.org
, which was founded two years earlier. The mission of the company was:
"…bringing internet access and the benefits of connectivity to the two-thirds of the world that doesn't have them."
According to senior executives at Internet.org, "…satellites will play an important role in addressing the significant barriers that exist in connecting the people of Africa..".
The grand plan to realize this connectivity vision was to use satellite technology to deploy internet services that would help address the pent-up demand that isn't being fulfilled through mobile terrestrial or fixed communications networks.
Earlier this year, Facebook announced the launch of it's Free Basics for Nigeria, a service that provides
free basic
mobile website services to underserved communities across the world. The company was gearing up to spread that gospel even further…when tragedy struck.
Exploding Hopes
On an early Florida September morning this year, at around 9 AM at Cape Canaveral Air Force Station, orange billowing flames and clouds of smoke spelt doom for Elon Musk's Space Exploration Technologies Corp's Falcon 9 rocket. But that explosion dashed more than just the hopes of Musk and his team to commercially launch routine space transportation. It also blew up hopes of Facebook's efforts to provide fast internet access to sub-Saharan Africa – for now.
The exploding Falcon 9 also destroyed AMOS-6, a $195 million Israeli-built communications satellite, which Facebook had hoped to leverage to further its internet service providing dreams. And that explosion also eroded the hopes of millions of internet-less people of getting 20 GB/s of data connectivity at low costs.
It was perhaps an eerie coincidence then, that on the very same day of his exploding hopes up in the sky, Zuckerberg was down on the ground meeting Kenyan's Cabinet Secretary of Information and Communications in Nairobi, sharing his vision about connecting the broader masses in Kenya with fast, low-cost internet access.
There's little consolation to be gained by Facebook though, in knowing that it isn't alone in its suffering as a result of the exploding AMOS-6. Along with Facebook's plans, the Government of Israel, a Ukrainian television network service provider, as well as television programming distributors in Europe, had all hoped to piggy-back off AMOS-6 to deliver various services to their constituents.
That will all have to wait – for now!
All's Not Lost…For Sure
Knowing how tenacious Zuckerberg is, we should not for a moment doubt that all is lost. In his official reaction to the exploding Falcon 9, the social media billionaire admitted he was "deeply disappointed to hear that SpaceX's launch failure destroyed our satellite…". However, while this is a serious setback, we would imagine that Facebook will pick itself up, dust itself off, and carry on with its noble mission – there's no doubt.
Like Alphabet, Facebook's competitor for this space, which is experimenting with balloons, that will float at altitudes between 60K and 75K feet for months at end, to get cheaper internet access to the masses under
Project Loon
; Facebook too has other irons – or should we say flying objects – in the fire.
In June this year, Facebook tested its giant solar-powered drone, dubbed Aquila, as a means of furthering its mission to beam low-cost internet access to the millions of individuals and families that don't yet have access. Aquila, which will hover around 60,000 feet in the air, will circle over an area of roughly 60 miles, beaming down internet connectivity across its orbit.
However, Aquila isn't quite ready for commercial use, but Facebook continues it's testing with other technologies too, because the social media giant probably has a lot riding on providing hundreds of thousands of new user's access to the internet.
While Facebook's efforts should be lauded as "noble", no one should doubt why corporate giants (like Facebook, and Google too!) are pumping billions of dollars into cheap, high-speed internet access. According to
figures from the United Nations
, nearly 57 percent of global population is still without access to the internet. Imagine the opportunity that affords to companies like Facebook:
· More users for its social media platforms
· Greater ability to shape opinions and influence individuals and communities across the globe
· Expansion of its revenue base, largely as a result of increased advertising income
It's no wonder that Facebook's founder isn't overly shaken by the setback caused by the exploding Falcon 9. For all intents and purposes, it should be seen not as a long-term setback, but as a temporary hiccup, which the company will soon overcome. In typical Zuckerberg fashion, the billionaire beams confidence when he says:
"We remain committed to our mission of connecting everyone, and we will keep working until everyone has the opportunities this satellite would have provided,"
And if anyone is going to succeed in this ambitious project, it's likely to be Zuckerberg and his team of dedicated professionals that gave us Facebook!